Hydrogen is an essential key in Europe's energy transition and its efforts to cut carbon emissions and tackle climate change.  It is therefore expected to play an important role in the European Commission's Green Deal. The FCH sector is also a valuable source of future jobs and growth in a green economy and CIDAUT is focused on this strategy.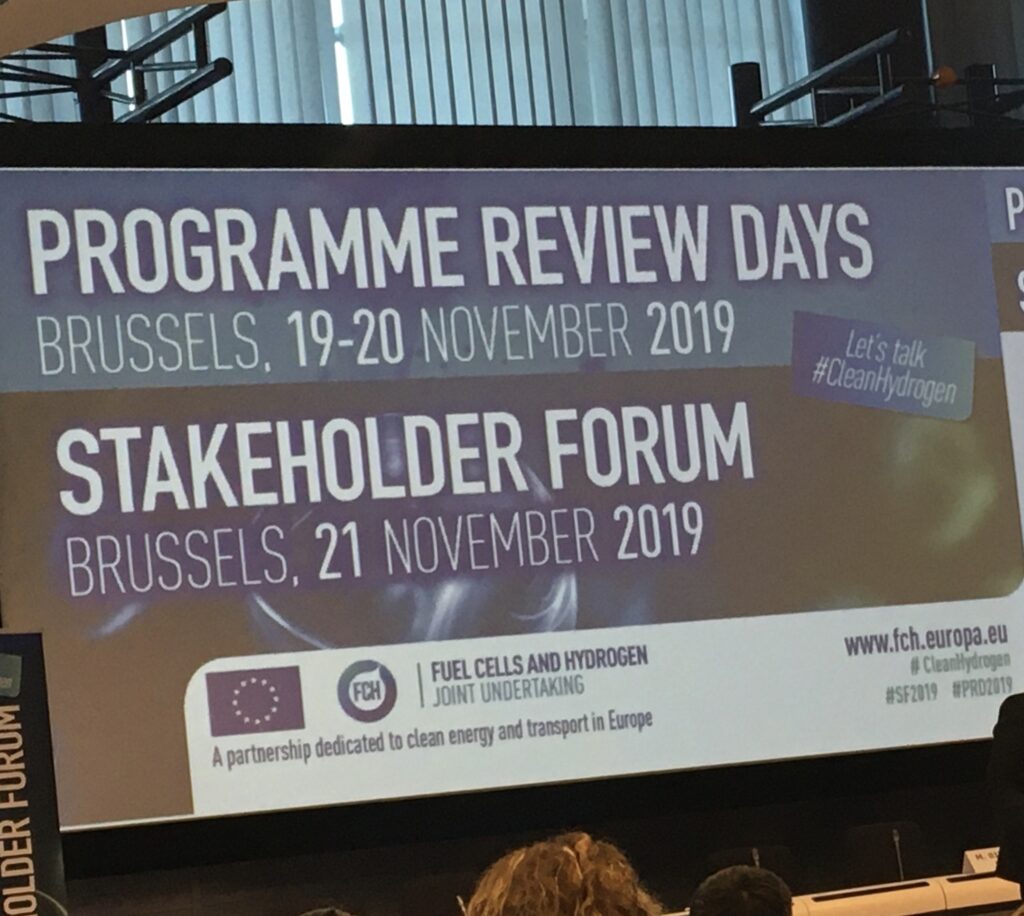 Different events have taken place in Brussels at the end of November in relation to hydrogen technologies and fuel cells. CIDAUT had the opportunity to be there.
Programme Review Days 2019
The Programme Review Days (PRD) 2019 took place on the 19th and 20th of November in Brussels preceding the FCH JU Stakeholder Forum on the 21st of November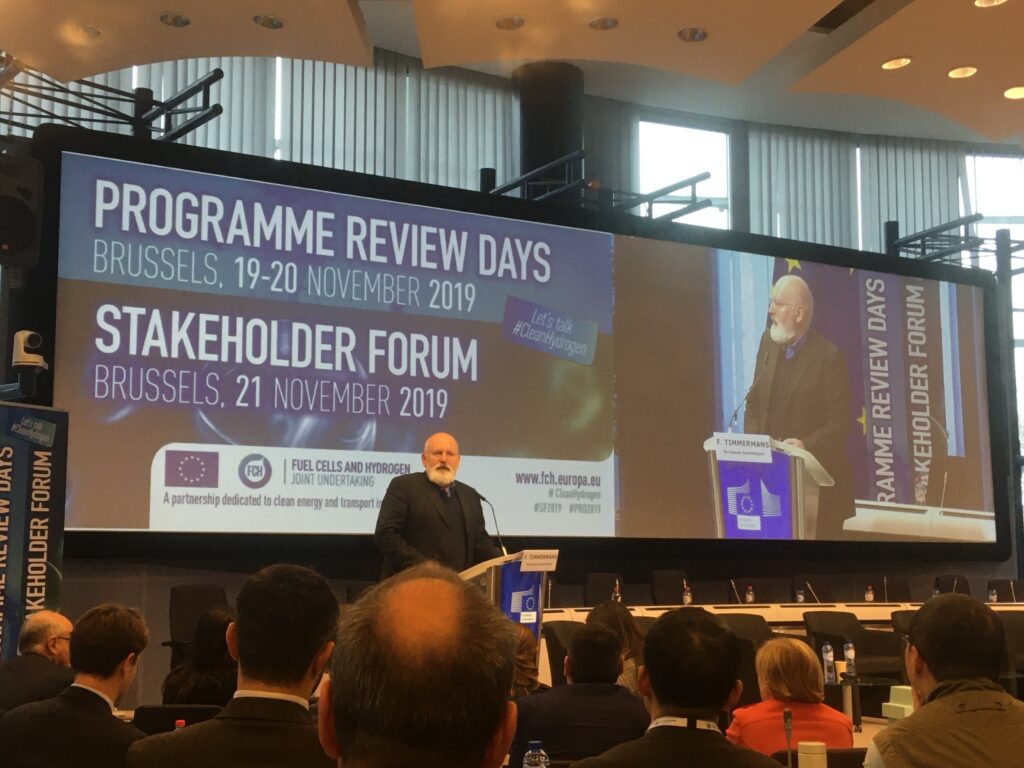 The Programme Review Days, organised annually, aims to provide an overview on the progress of the FCH JU funded projects. It constitutes an excellent visibility platform for the projects and the technological developments achieved in the sector and provides networking opportunities for the participants.
A number of 27 projects and 3 studies as well as other FCH JU initiatives, were featured this year, gathered around the following main sessions: Hydrogen for Sectoral Integration, Fuel Cell Applications for Energy, Fuel Cell Applications for Transport and Support for Market Uptake.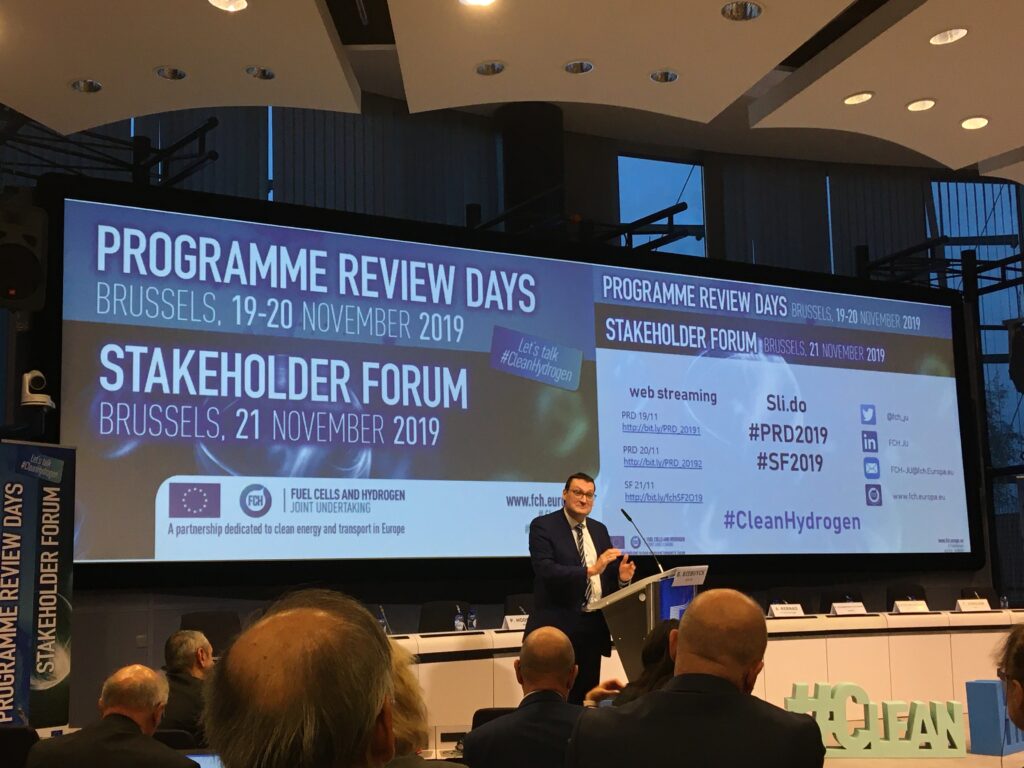 FCH JU Awards 2019
The Awards were presented at a ceremony at the Royal Museums of Fine Arts in Brussels on 20 November 2019, attended by about 300 industry, research and EU representatives. The winners were chosen by public vote, which mobilised the European Fuel Cells and Hydrogen community around the 24 nominees – 12 for each category (success stories and innovation).
This year's Best Success Story, 'Driving forward fuel cell technologies', is looking at a series of projects (VOLUMETRIQ, INSPIRE, CRESCENDO, GAIA and PEGASUS) which are making fuel cells more affordable and competitive.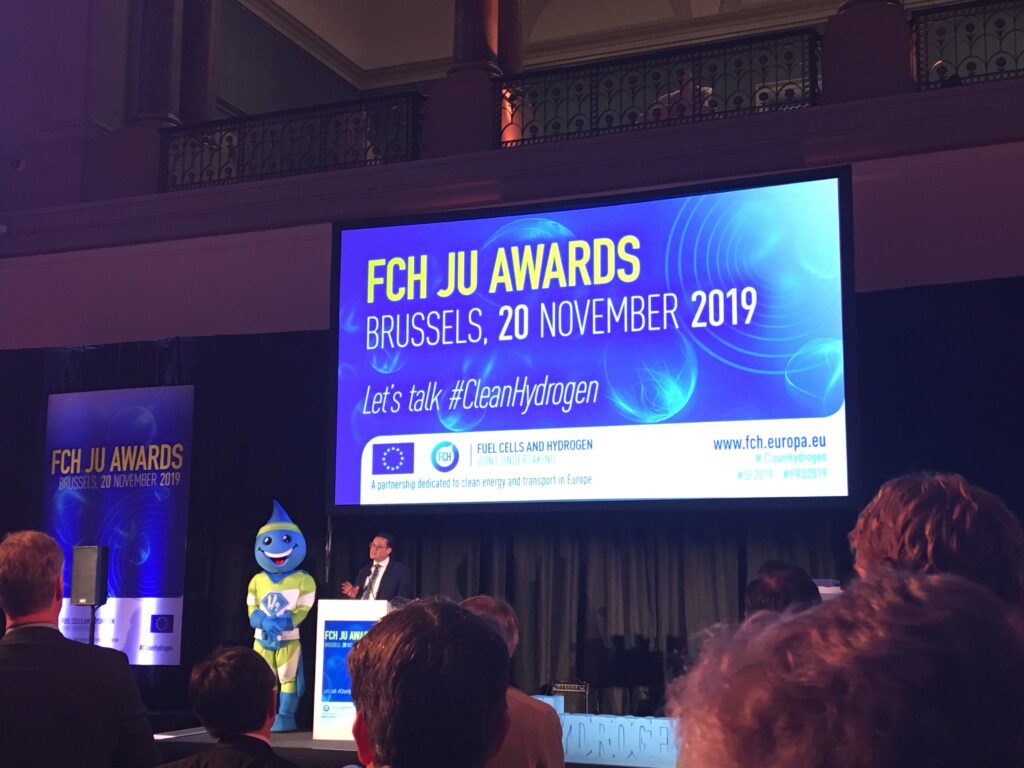 "These projects are delivering results that enable Europe to be a leader in the fuel cell technology and have a strong impact on the clean energy transition. The aim is to pry open market potential, ensuring a greener future for the EU's transport sector" said FCH JU's Executive Director Bart Biebuyck.
BIG HIT project was presented with a special award for Best Outreach Hydrogen achievements in Scotland (Orkney Islands).
Stakeholder Forum 2019
"The green energy transition is not an option but a necessity. I see a pivotal role for clean hydrogen…it is an area where Europe is still leading. Why not extend the lead on something that could be one of the most important solutions for clean energy?" said Frans Timmermans, First Vice-President of the European Commission, in the opening session of the 2019 Fuel Cells and Hydrogen Joint Undertaking (FCH JU) Stakeholder Forum, on 21st November. 'The most important thing is that you help us to find ways to make relatively quick successes to show people that it works' continued Timmermans," addressing the forum – energy and climate experts from industry, research, EU institutions and local and regional authorities.
Discussions among more than 500 Forum participants in Brussels' Charlemagne building focused on how to tackle the remaining hurdles to deployment, the importance of promoting an innovation culture in activating new markets, and the impact of synergies and international scale-up efforts on growth and jobs. Delegates explored the latest developments in the sector, showing how Europe is capitalising on new FCH developments and forging ahead towards a zero-emission economy.
Participants could also download the event app to stay up date with the conference programme and also join us on social media by following @fch_ju on Twitter – #PRD2019 #SF2019 #CleanHydrogen.
S3P HYDROGEN VALLEYS Working Groups
And to close the week, CIDAUT attended the meetings organized by the S3P Hydrogen Valleys working groups that took place on Friday the 22th November.
The working groups have been organized based on themes that arouse common interests for the development of interregional projects. Thus, CIDAUT as a representative and supporting the region of Castilla y León attended the meetings of the Hydrogen Production, Transportation and Storage groups, as well as Mobility uses. The objective of these groups is the approach of projects in the different themes that can be presented at the Hyvolution event that will take place on February 4 in Paris. CIDAUT will co-coordinate Production working group with Aragon Hydrogen Foundation and University of Bologna.