Go Mobility was held in Irun, Spain on November 27th and 28th
Go Mobility has been the first industrial exhibition of Southern Europe, it has attracted 70 exhibitors and 2150 professional visitors. The exhibition has brought together representatives of the electro-mobility ecosystem. Exhibition, demonstration, conference and round table have run in parallel to attract different professional profiles from students to cities.
An initial study of the satisfaction surveys filled in by the exhibitors and visitors shows that they rated the show positively as regards both the products on display and the conferences and side events. The exhibitors expressed their satisfaction with the visitors profile and the quality and variety of Go Mobility's side events , which have served as a forum for discussion and reflection on the challenges of future sustainability.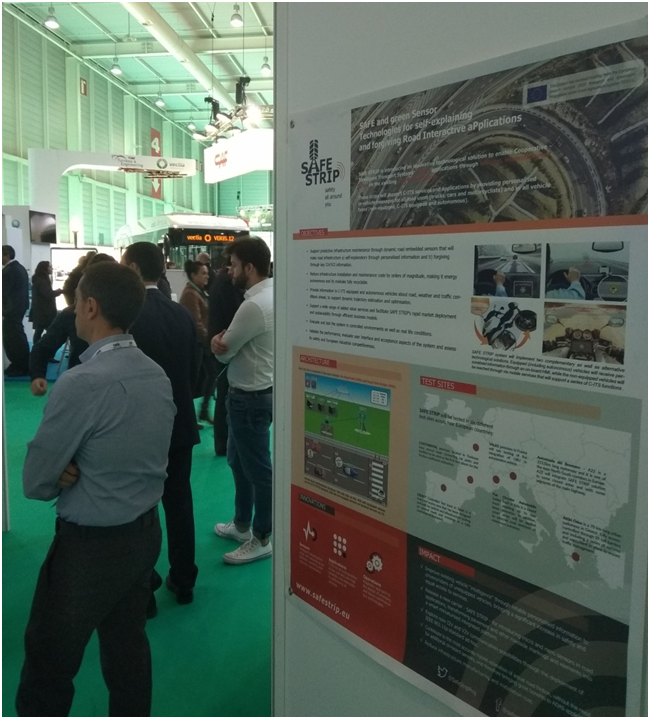 Safe Strip poster presented in Go Mobility
In the poster zone, Cidaut has presented Safe Strip project. In these days the project has reached its midterm, when all the use cases have been fixed and the technical solutions have been chosen. The poster showed the most important results on the sensors development and miniaturization, the communication solutions to be applied, the demonstrators to be used and the different test tracks for testing.
The profile of the people having interest on the profile is technicians experts on communication, sustainable mobility and safety.