ARCADE (Aligning Research & Innovation for Connected and Automated Driving in Europe) is a Coordination and Support Action coordinated by Ertico under the Horizon 2020 Programme. The Consortium consists of 24 partners from 11 different countries. It is a 36 months project that started the 1st of October 2018.
ARCADE coordinates consensus-building across stakeholders for sound and harmonized deployment of Connected, Cooperative and Automated Driving (CAD).
ARCADE supports the commitment of the European Commission, the European Member States and the industry to develop a common approach to development, testing, validation and deployment of CAD in Europe and beyond.
The ARCADE project aims to establish a joint stakeholders forum in order to coordinate and harmonize automated road transport approaches at European (e.g. strategic alignment of national action plans for automated driving) and international level (in particular with the US and Japan). Towards this objective, ARCADE will organise the Second European CAD conference in 2019 and is open to associated partners beyond the confinements of the consortium.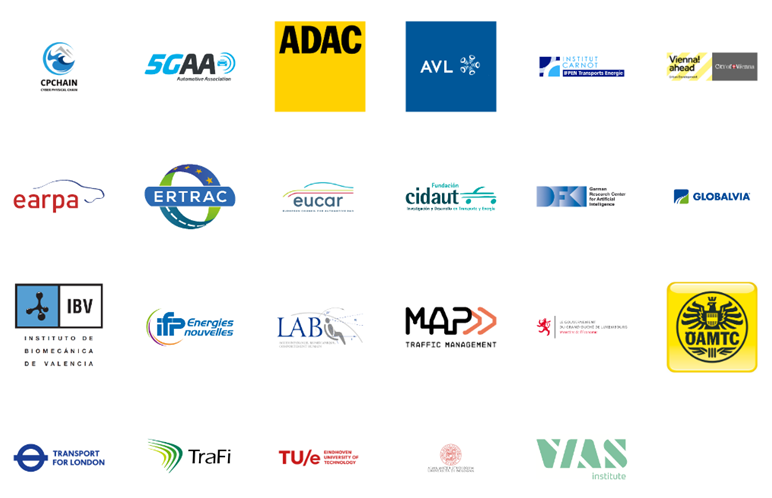 Associated partners of ARCADE Project
ARCADE objectives are:
Cooperation between all CAD stakeholders(e.g. industry, research, member states, European Commission and international partners) from the different sectors (e.g. automotive, infrastructure, ICT and service provisions)
Coordination of cooperation efforts between all programmes, initiatives and projects, including national and European research programmes as well international cooperation activities
Exchange of knowledge, lessons andexperiences from past and ongoing activities at national, European and international level
Consensus buildingon CAD deployment scenarios and research needs for connected and automated driving