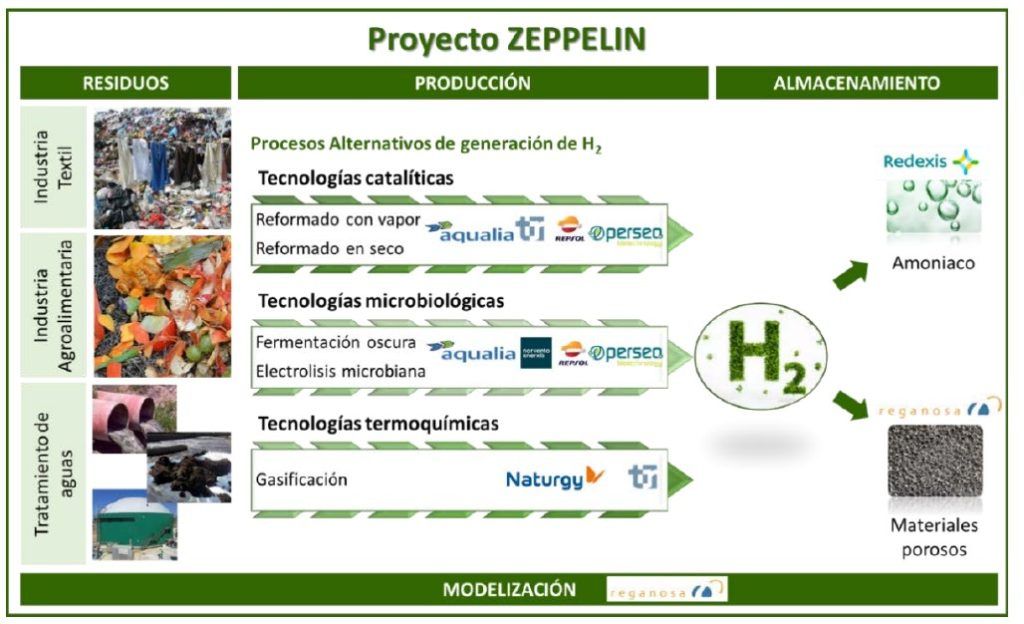 CIDAUT is one of the research entities participating in the Zeppelin industrial research project, which aims to develop efficient and circular technological solutions for the production and storage of green hydrogen. The project aims to use innovation to reduce the current costs of renewable fuel production.
Led by the company Aqualia, Zeppelin has the participation of other actors in the hydrogen sector such as Redexis, Naturgy, Norvento, Perseo, Reganosa, Técnicas Reunidas and Repsol.
The general objectives of the project are to research new green hydrogen production technologies that are alternatives to electrolysis and that promote the circular economy through the recovery of waste and by-products from different sectors (agri-food, textiles, WWTPs, refineries, etc.).
Currently, 96% of the hydrogen produced in the world comes from fossil fuels and only 1% from renewable sources. Spain's Hydrogen Roadmap calls for 25% of the hydrogen consumed by industry to be renewable by 2030, which will begin to power our trains, planes and vehicles. The Zeppelin project will contribute to achieving these Roadmap targets.
New materials and carriers for storing green hydrogen and modelling tools for the different technologies developed will also be evaluated. All of this, aligned with the objective of reducing the energy, economic and environmental costs associated with current hydrogen production and promoting safe, efficient and clean energy.
Within Activity 4: Research into H2 storage processes, led by Redexis, CIDAUT will collaborate in the research into alternative storage processes for green hydrogen in the form of ammonia. A comparative study with other forms of H2 storage will be carried out and a process for H2 storage in form of ammonia adapted to production and use needs will be dimensioned.
Zeppelin is funded by the Centre for Technological and Industrial Development (CDTI), through the CDTI Missions programme, aimed at financing large strategic business R&D initiatives that propose solutions to cross-cutting and strategic challenges for Spanish society and with the support of the Ministry of Science and Innovation. It has a budget of more than 7 million euros and the research will last until the end of 2024.The budget granted is financed by the European Union through the Next Generation Fund.