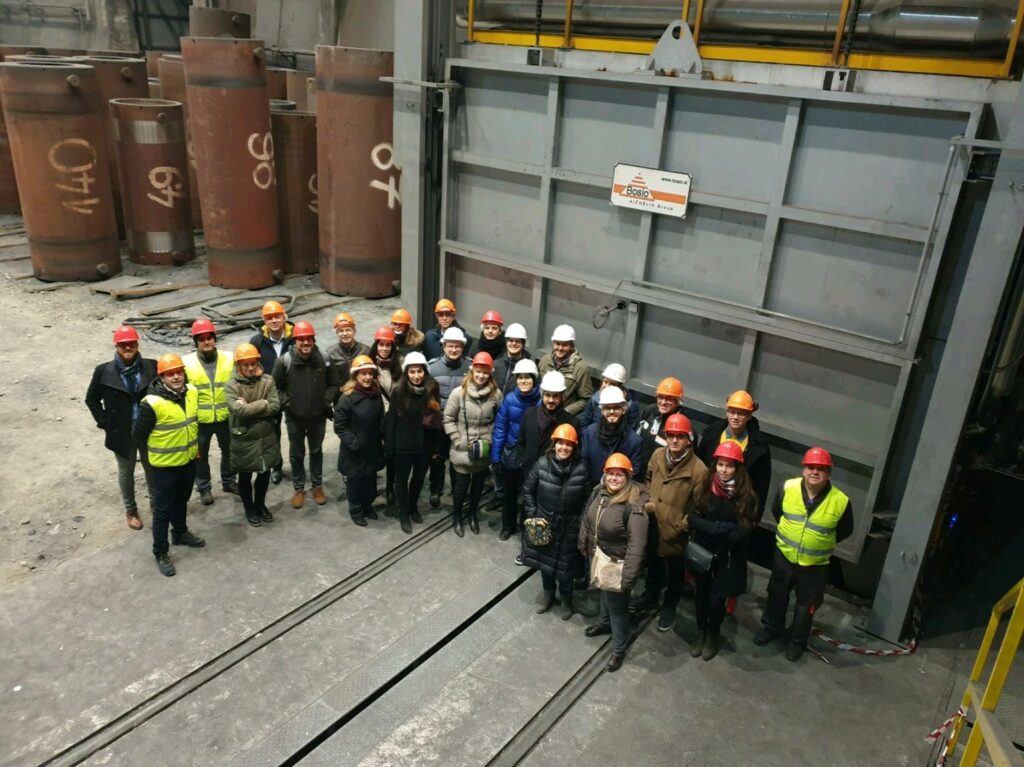 VULKANO team during Valji visit in the Final Event
The Final Event of VULKANO project took place in Celje (Slovenia) on 23rd-24th January 2020 in presence of the Project officer and Technical Advisor of the European Commission. The meeting gathered more than 30 members of 11 companies located in 6 different countries, in order to review the final status of the project after the forty two months of execution.
This Final Event comprised several parts. Firstly, during the morning on 23rd it was held the last General Assembly where it was reviewed internally the results of the project, mainly the implementation solutions in the demo sites.
The same day during the afternoon and with the presence of the members of the EC, a visit was made to Valji facilities where it was possible to verify in situ the implementation of the replica furnace along with the rest of the solutions: co-firing system, PCMs (phase change material), new refractory materials and monitoring and control system.  This visit offered a better understanding of the results obtained in the project which were exposed to the Project officer and the Technical advisor during the Review meeting held the next day on 24th. The review meeting included all work packages, not only technical, but also the results of exploitation and dissemination were exposed. Of relevant interest were the results related to the implementations of the pilot demos.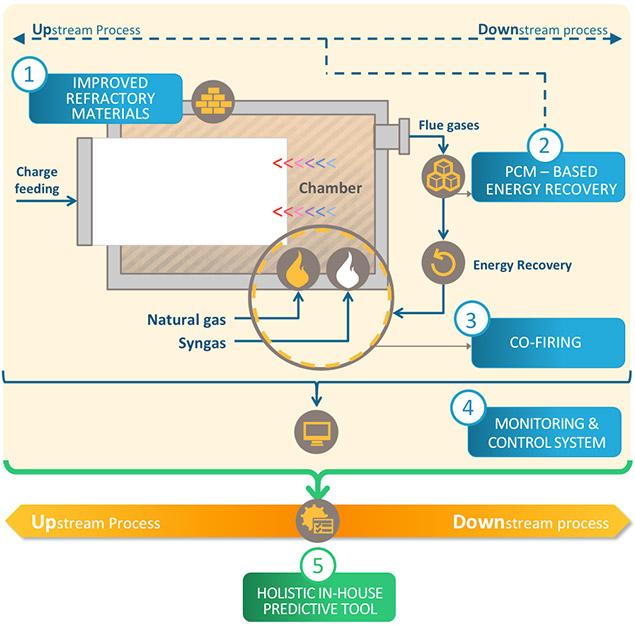 VULKANO SOLUTIONS SCHEME
The Final event concluded on the 24th with a presentation of the results to interested companies and stakeholders in order to show the viability of VULKANO solutions in an individual and integrated way, so the holistic predictive tool. The event was attended by a large number of stakeholders and companies from Slovenia.
As a conclusion, VULKANO project has satisfactorily achieved its objectives throughout this time, obtaining useful results. Two demo furnaces which integrate 5 innovative solutions: improved refractory materials, PCM-based energy recovery, co-firing system with renewable gases, monitoring and control system and finally holistic predictive tool. Three energy intensive sectors have been involved: ceramic and steel as demo sites and aluminium as case study in theoretical demo.
It has been a pleasure for CIDAUT to be part of this project and work on the VULKANO project with the great team that all the members of the consortium comprise. Thank you!
More info: http://www.vulkano-h2020.eu/