The Spanish Railway Technology Platform (PTFE), whose technical secretariat is provided by the Spanish Railways Foundation, held its 16th Annual Assembly at the headquarters of the Spanish Railways Foundation on 17 November. This year the assembly returned to its normal on-site format. The meeting was chaired by Enrique Playán, Director of the Spanish Research Agency of the Ministry of Science and Innovation and José Carlos Domínguez Curiel, Manager of the Fundación de los Ferrocarriles Españoles.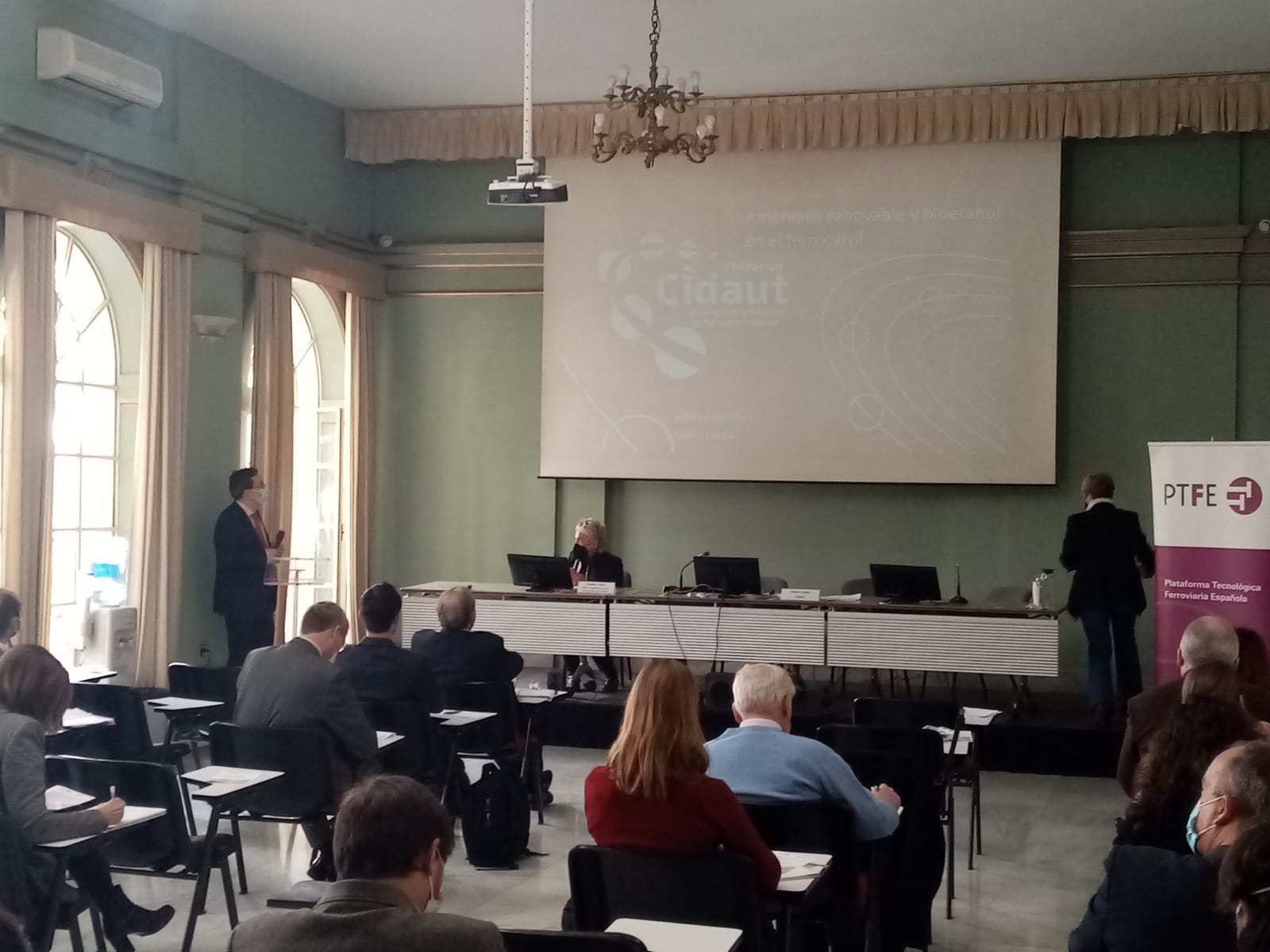 Within the framework of the European Year of the Railway, the PTFE focused its debate on national and international R&D&I strategies, support instruments for the sector and the disruptive innovation vectors that will drive the railway mode in its consolidation as the backbone of sustainable, connected and safe mobility.
As usual in the PTFE Annual Assembly, the meeting included a specific session for the exhibition of innovative projects that ratify the capabilities of the ecosystem and have a positive impact on the competitiveness of the sector. Technology developments and new elements were presented by leading researchers and experts from different organisations.
On behalf of CIDAUT, Alfonso Horrillo contributed with the advances being made on renewable ammonia and bioethanol as hydrogen carriers in the railway. These developments will go deeper into the possibilities that the use of this energy will favour even more the energy efficiency that characterises the railway mode.
The 16th Annual Assembly ended with the presentation of the innovation strategies of two of the benchmark driving forces for the Spanish railway sector: RENFE and ADIF. The significant impact on the decline in rail transport caused by COVID-19, the liberalisation process, the Recovery, Transformation and Resilience Plan, the development of ERJU (Europe's Rail Joint Undertaking), etc., have led to a review of the strategies of railway operators and managers in which the commitment to innovation is going to be a transcendental factor.
The most relevant innovation strategies and projects (own, collaborative and win win) were presented by Pilar Gorriz, Renfe's Innovation Manager and José Conrado Martínez, Deputy Director of Innovation, both of whom explained their open approach to collaboration in the development of their innovation with the sector. Their organisations have a high potential to lead and undertake competitive and business processes that involve bringing innovations to the market with a greater potential for success.
More info: https://www.ptferroviaria.es/noticias/noticias.asp?item=86