The COVID-19 has forced to celebrate the II Foro Iberoamericano de la Energía on-line. In this edition, Cidaut has been invited to show its know-how and experience in the development of solutions for sustainable mobility. The presentation made by the Research and Development Center has been focused on the methodology followed in the last twelve years to complete the whole path from the idea to the manufacturing of a safe urban electric vehicle.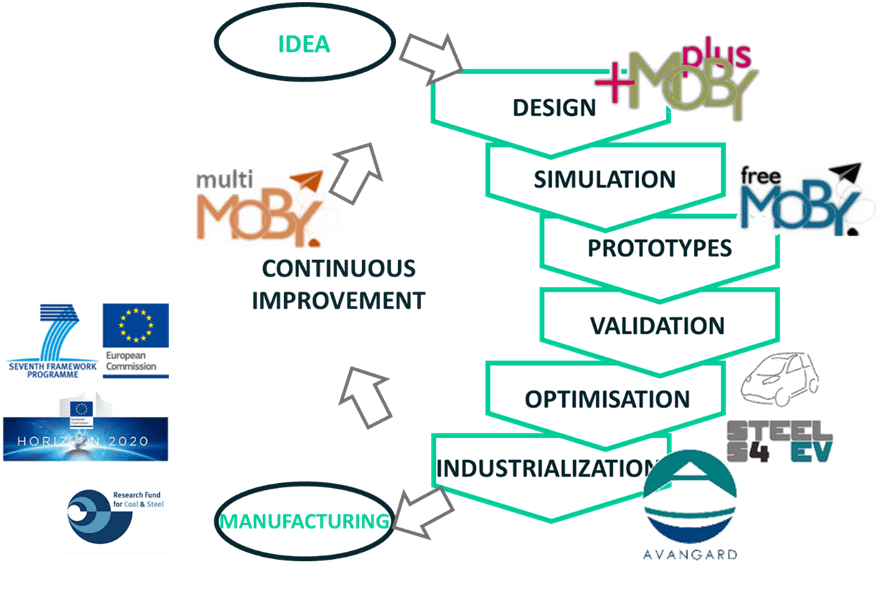 The first point of the presentation was to highlight the support of the European Commission through the different funding programs and the great contribution of the different and numerous partners involved in the different project presented. Although Cidaut has worked in different solutions for the vehicle structures, mainly CFRP, light alloys and AHSS, in this case the solution based on Advanced High Strength Steel was presented. This working line started on 2012 with the design of a safe urban vehicle (PLUS-MOBY Project) and its related infrastructure. The vehicle's power train consisted in two motor one per axle with and enhanced dynamic behavior and improvement crashworthiness for lateral and frontal crashes. Both the vehicle and the infrastructure used the photovoltaic energy to reduce de carbon footprint with cells in the roof of the vehicle and in the infrastructure, also the batteries available in the infrastructure were compatible with the batteries in the car to allow battery swapping.
Along Steel S4 EV Project, the vehicle structure is optimize paying special attention to the cutting and welding processes of the structure and the assembly of the vehicle as a whole. The aim is to make a clean safe vehicle easy and cheap to be manufactured. The design of the micro-factory where the solution achieved in Steel S4 EV can be produced is been tackled in Avangard Project, where the main objective is the definition of a 4.000m2 plant where different configurations of the vehicle (van, pick-up, enlarged van, standard,…) can de produced with an investment 90% lower in comparison to a standard vehicle factory.
Finally, the product will be improved thanks to the integration of automated driving capabilities that will be implement in the coming project MULTI-MOBY.