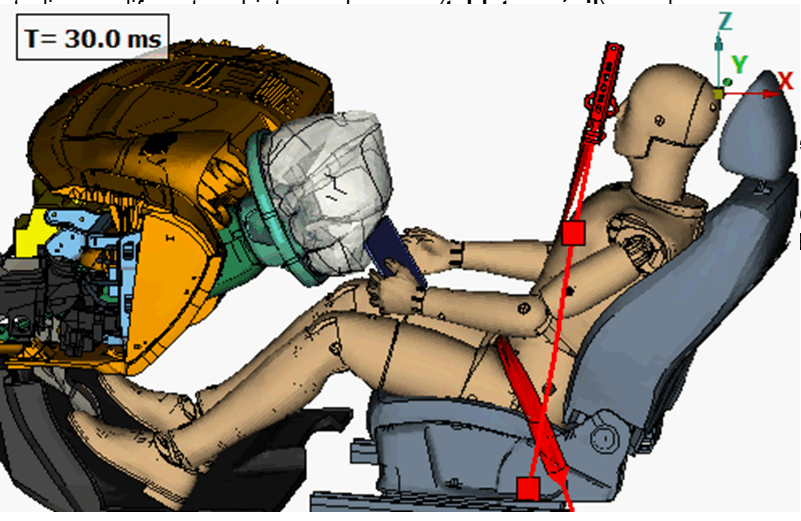 Step by step automated driving is becoming present in our daily driving. Some years ago, some vehicles were able to maintain the selected speed or to inform us about our position in the lane, later they increased their intelligence braking when they found an obstacle in front or steering to stay in the center of the lane. Self-parking is nowadays a reality for some models, as it is the traffic-jam chauffeur. This upscaling of the vehicles' skills is addressing us to growing levels of automation. Nowadays level 2 vehicles are a reality in the road and level 3 are starting to be sold, and together with the conditional and high automation level, the driver of the vehicle will be allowed to make different activities while the system controls the vehicle.
These activities will be linked to new positions in the vehicle, mainly it is foreseen that the seats will move backwards, the seatbacks will be more reclined and the steering wheel will be warded off in the cockpit. Attending to this new scenario, the conventional restrain systems will totally lose their performance. The seat belt, fixed to the B-pillar will be very far from the occupant shoulder, so it will be impossible to stop the chest in the event of a crash. Similarly, the steering wheel airbag will be away from the driver, so the pressure inside the bag will not be the suitable one when the body impacts the air-bag and the head will impact both the steering wheel and the cockpit.
To tackle these new scenarios, CIDAUT, together with three reference research and development centers, CTAG, ITENE and i2CAT, is developing new passive safety solutions in the frame of Integra project. The new solutions are related to the integration of the seat belt in the seat, in order to maintain the relative position between the occupant's body and the restraint device, and also innovative solutions of smart airbags are involved with adaptive working parameters attending to the kind of impact and the position of the passengers inside the vehicle.
In parallel, and in order to inform the adaptive airbag solutions, CIDAUT is developing an innovative artificial vision devise based on a single camera to understand the occupants' position and the main biomechanics characteristics. Additionally, the system integrates artificial intelligence algorithms that monitors the driver and are able to decide if it is in good condition to take over the control of the vehicle.
Acknowledgment
The work driving to these results is been performed in INTEGRA project, funded by and CDTI through Ministerio de Ciencia e Innovación in the frame of the funding for Excellence in Research Centers "Cervera". CER – 2021 1031.