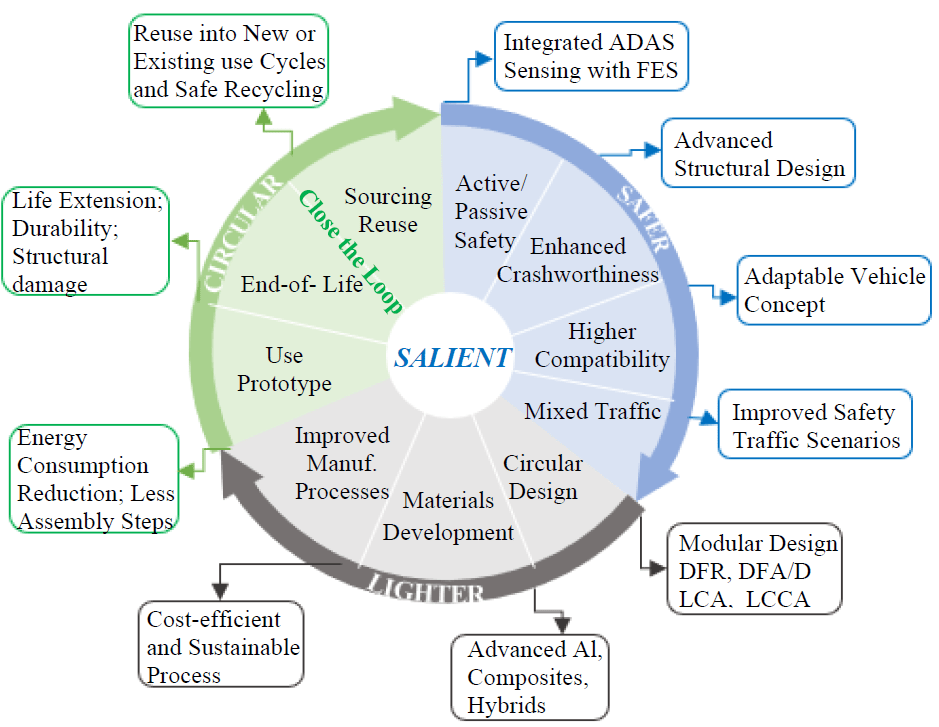 In the frame of Salient, Horizon Europe Project, Cidaut together with eleven partners will search for an innovative solution of the vehicle structure in the event of a crash. The front end structure of the vehicle will be equipped with intelligent sensors, whose first mission will be to advise the ADAS of the vehicle to avoid the impact, and in case this is not possible, the second mission will be to inform the structure of the vehicle about the kind of impact, the direction and the speed. According to this information, the solution developed in the project will modify the behavior of the component in charge of the energy absorption in order to optimize its behavior.
To achieve this innovative result, the consortium will develop new materials, based on advanced composites, aluminium or hybrid combinations on both. The project covers all the steps from the material characterization to the final validation test, where Cidaut will use its facilities to perform the real crashes that will demonstrate and validate the effectiveness of the solution.
Salient is a 36 months project that started on September 2022. CTAG, as project coordinator, hosted the kick off meeting at the headquarters in O Porriño. The twelve partners were present in the meeting enjoying the opportunity to celebrate face to face meetings, and taking advantage of the occasion to fix the next steps and milestones of the project.
The research leading to these results has received funding from Horizon Europe Programme under grant agreement nº101069600.