The ALMAGIC Project, led by CIDAUT and granted by European Commission's Clean Sky 2 Programme (Contract No. 755515), held its last review meeting on 16th May 2019 at CIDAUT´s premises in Valladolid (Spain).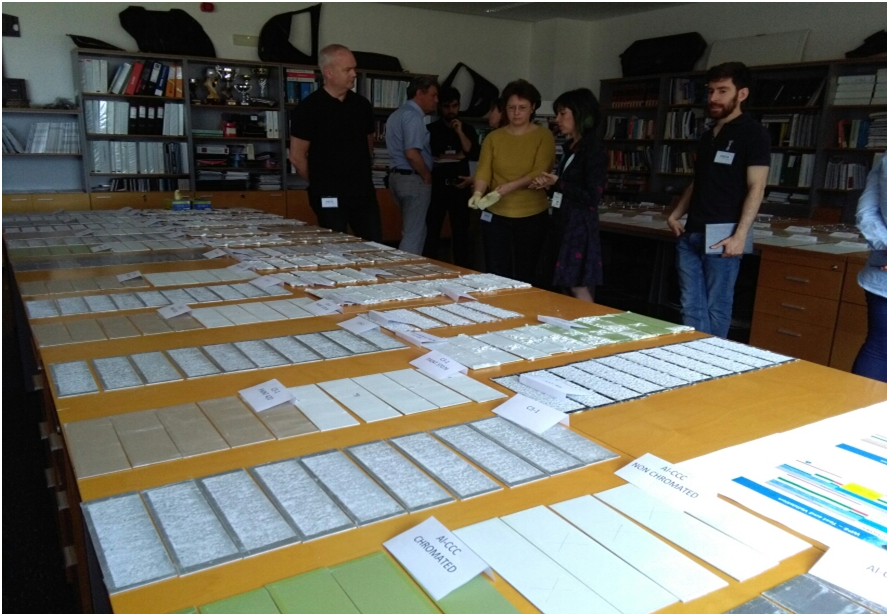 Coinciding with the end of the project research activities, all Consortium partners and the Topic Leader (MTU Aero Engines) met to analyze in depth the general project results. To this end, during the meeting, the tasks performed along the project were discussed, and their main outcomes were evaluated. A showroom was organized, exhibiting all tested samples, in order to ease the inspection and evaluation of the testing results, encouraging fruitful discussions between the attendees. The meeting ended with a guided tour through CIDAUT's facilities.
The different tests (corrosion, electrical conductivity, paintability and fatigue testing) performed on the Chromium(VI)-free innovative coatings for Mg- and Al-alloys suggest that there is a clear potential of substitution of these Cr(VI) pernicious coatings in the following years by means of further development of novel coating and paint formulations. From the discussions, the main improvement areas were also defined, as well as future lines of work.
It has been an awesome experience for CIDAUT to take part in ALMAGIC project as leader. Not only the project results have been of great interest for both the project partners and the topic leader, but also strong relationships with the rest of the partners have been built. We are looking forward to exploring future collaboration opportunities in the future and continue progressing in the development of innovative Cr(VI)-free coatings.